Mammals
Aardvarks

Match the picture to the replica.
Aardvarks
Live in sub-Saharan Africa except for west-central rain forests.
Burrowing animals

Have long, sticky tongues that can reach 250-300 mm into an ant or termite hill. They gobble up prey with their tongues.

Solitary animals.

Nocturnal.

Insectivores: eat ants and termites.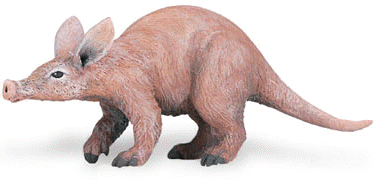 Prepared 1/24/2007
Replica animals by Schleich, Bullyland and Safari
*Source: Fox, D. 1999. "Orycteropus afer" (On-line), Animal Diversity Web. Accessed January 26, 2007 at http://animaldiversity.ummz.umich.edu/site/accounts/information/Orycteropus_afer.html.
Pictures for educational use only.

cjf